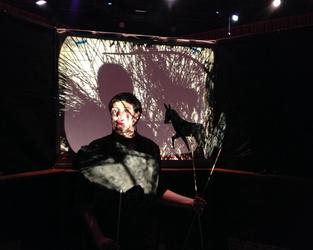 Contact me at lydiakgreer@gmail.com
Lydia Greer
Visual Artist, Educator & The Artistic Director of
Facing West Shadows
Lydia Greer is a widely exhibiting interdisciplinary visual artist, filmmaker, animator, and the artistic director of Facing West Shadows, a Lumia arts collective working with shadow casting/ hybridizing art forms to create magical acts of rebellion as experimental art in the gold rush climate of the San Francisco Bay Area. Expanding into film/animation, theater/opera, puppetry, and sculptural installation, Facing West Shadows creates surprising experiences for the audience by seamlessly combining old and new technologies and art forms. Lydia is an Assistant Professor in Animation and Fine Art at California College of the Arts in San Francisco. She holds an MFA in Art Practice, New Genres/Mixed Media from the University of California, Berkeley, CA. She was a Fellow at The Skowhegan School of Painting & Sculpture. She has also taught at UC Davis, UC Berkeley, and Saint Mary's College of California, among other institutions. Recent artist residencies, awards, and projects include a 2020 DEAR Time-Based Arts Residency Award (Oakland, CA), a 2018 Kala Media Arts Residency and exhibition, a 2022 NEA grant-funded residency and performance at the Exploratorium Museum in San Francisco, as well as a commissioned large scale 750 square foot 9- channel cinematic sculptural installation on the topic of species extinction in the Anthropocene (Title: The Endless End) at the San Jose Institute of Contemporary Art Museum in 2022. In the fall of 2022, she was featured in a screening and panel at the Berkeley Art Museum/ Pacific Film Archive on Experimental Animation, curated by Kathy Geritz and Jeffrey Skoller. She performs and screens regularly at Craig Baldwin's Other Cinema at Artists Television Access and Shapeshifter's Cinema in Oakland. In 2023 and 2024, she will present work internationally in Brazil and the Czech Republic. She has been an artist and consultant for over a decade with ShadowLight Productions. Lydia has taught visual art, animation, film, and animation/film history/visual studies for over 18 years on the West Coast. She lives and works in the San Francisco Bay Area, California.
More info:
Lydia Greer is a visual artist whose layered, mixed media work includes sculptural and video installation, hand-made stop motion animation, single and multiple channel video, puppet theatre, and works with paper. She works with themes of allegory and euphemism in narrative structures, exploring the languages of psychology and theatre. Lydia is interested in the most elaborate forms of storytelling, the narrative charge of everyday objects, and how these communication ceremonies play out in the personal, spiritual, and historical/political arena. Specifically, she is interested in individual acts of resistance and how the gestures of historical and spiritual trauma are seen in visual and storytelling culture. Each project has its own diegetic story world and involves complicated revisions featuring a transcendent historical character or taboo or unreliable story, inviting audience engagement in narrative construction and play. From 2003-2007 she directed the LET'S DANCE SHADOW THEATRE, a handmade, ragtag puppet company in Portland, OR, creating punk, feminist revisions of broadcast news and fairytales. Since then, her multimedia/mixed media artwork and extended cinema performance work have been exhibited internationally and nationally, most recently with commissions from The Exploratorium Museum (SF), Mamuta Art & Media Center (Jerusalem), Monkey Town (Brooklyn), Skowhegan School (NYC), Shapeshifter's Cinema (Oakland), Other Cinema at ATA (San Francisco), Berkeley Art Museum and Pacific Film Archive (Berkeley), Royal NoneSuch Gallery (Oakland), Cabin Gallery (Chicago), Berkeley Center for New Media (Berkeley), Radar Productions (San Francisco), Museum of Human Achievement (Austin), ProArts (Oakland) and inclusion in The Channel of Democracy: Womanhood, Power & Freedom in Video Art, an all-women video art exhibition at the International SF PhotoFairs 2018 at Fort Mason Center for Arts and Culture (San Francisco). In 2018, she was awarded a Media Arts Fellowship and Exhibition at Kala Art Institute (Berkeley) and has attended multiple residencies, most recently at Vermont Studio Center in Johnson, VT. She studied printmaking, drawing, and time-based art at Portland State University (Portland, OR), was a fellow at Skowhegan School of Painting and Sculpture (New York City and Skowhegan, Maine) and earned her MFA in Mixed Media/New Genres at the University of California, Berkeley in 2009. She has been an artist and consultant on multiple projects for the last decade with Unima Award-winning ShadowLight Productions (Larry Reed, artistic director) in San Francisco (the art of shadow theatre for four decades), notably working on several significant, large-scale, bilingual, interdisciplinary shadow theatre plays incorporating video, dance, sound, multiple hand-built lights, puppets, live actors and masks, notably Ghosts of the River written by Octavio Solis and Good For Nothing Lover (Isadora Duncan award) as well as shadow animation for film for Robin Lung's feature documentary Finding Kukan which makes its broadcast premiere on PBS in April of 2018. Lydia is a founder and the Artistic Director of Facing West Shadow Opera: a collective of artists, filmmakers, and musicians hybridizing art forms, including live opera, original animation, shadow theatre, and found film to create unique performances, each akin to a living graphic novel with euphoria-inducing chamber music.
https://www.facingwestshadows.com/
Lydia has taught visual art, animation, film, and film history/visual studies for over 18 years on the West Coast and lives. She works in the East San Francisco Bay Area, California.