4 channel video installation with HELLO LOVERS ORCHESTRA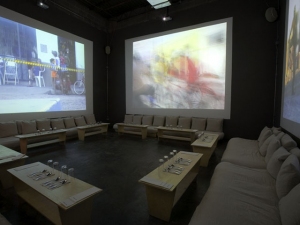 AT MONKEYTOWN, BROOKLYN, NY
Friday, Saturday and Sunday, October 23, 24, and 25
Admission: $40 6-course Prix Fixe Dinner (Friday & Saturday); $10 + $10 minimum (Sunday)
Doortime: 7:30pm (Friday & Saturday); 8pm Sunday
reservations are recommended

Hello Lovers is a strange fruit; comprised of musicians from different backgrounds and lineages. From prestigious conservatories to ad hoc improvisation pot lucks, avant garde and experimental studies to negro spiritual workshops, thru noise abandons and punk ethics.

Hannah Liddell- piano; Masha Poloskova - violin; Mollie Fischer - cello;
Leah Celest - viola; Corey Walker - brass; Caitlin Macklin - trombone;
multi instrumentalist Andy Hadaway and many wonderful guests, fill the dress of this fancy musical thing.

With composer/singer J.C. King's unique songs, using improvisation, with consistently romantic themes. Hello Lovers are cultivating a zealous and ritualistic method of torch song. musics of broad, rich harmonies, mystery, stillness and kinetic movement.

Performing new work as well as music from 2008's LP Gone with the Wind (sixgunlover) and 2006's acclaimed Vanity Fair EP (inchworm records). Available on itunes and most mom and pops. These performances are in colaboration with images by Lydia Greer.