Summer 2013-Sou'wester Artist's Residency, WASHINGTON STATE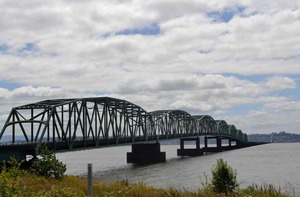 I stayed and worked at the Sou'wester this summer creating a project called Interventions in Taxonomy. More soon on that work! "The beloved Sou'wester is a hodgepodge of private cabins, vintage travel trailers, suites and campsites. We are located minutes from the surf and less than 15 miles from Astoria, in historic Seaview on the Long Beach Peninsula."
---
Night Light at SOMArts Cultural Center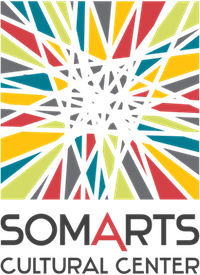 I am showing two light based works in this magical show: an animated two channel video installation and a large scale shadow projection. One night only, Saturday, April 27, 2013, 8pm to midnight, the group exhibition Night Light: Multimedia Garden Party blankets SOMArts in site-specific luminous art installations, live music and performances, and digital and cinematic projections by more than 50 artists.
---
Curating short films for the 2013 TEMESCAL STREET CINEMA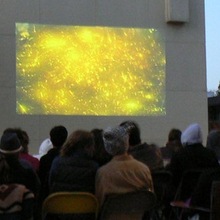 I am pleased to announce I was invited to curate the short films for the 2013 Temescal Street Cinema Film Festival in Oakland, CA. (that's my animation on the wall from 2010!)
The screenings begin in June and go through July. Check back for the full list of films!
---
STOP MOTION at Interface Gallery
Stop/Motion at Interface GalleryOakland, CAJanuary 4th - January 26th Stop/Motion is a series of film and animation related experiences at Interface Gallery throughout the month of January. The program includes screenings, a workshop, and an installation by artists Sarah Klein, Lydia Greer and Ellen Lake. Meanwhile, throughout the month, Interface Gallery director, Suzanne L'Heureux, will be using the gallery to produce her own stop motion animation exploring what it means to stop and how to stay self connected while in motion.Opening Reception, Friday January 4th, 6-9 pm. Animation Workshop at Interface Gallery in Oakland, CA with Lydia Greer on Saturday, January 19th 2-4 pm. Screening: Splitting the Frame: A screening and roundtable artists' talk featuring contemporary animation and video by 5 Bay Area artists. Curated by Lydia Greer Saturday, January 26th, 7 pm, Farley Gwazda, Azin Seraj, Rose Khor, David Gregory Wallace and Lydia Greer
---
MAGIC LANTERN-video art at Children's Fairyland Amusement Park in Oakland, CA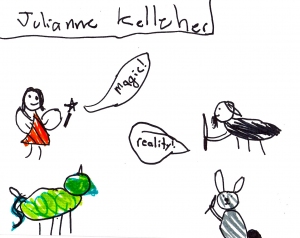 Friday, October 12, 2012A special one-night event showcasing some of the Bay Area's most innovative video and projection artists, presenting site-specific artworks amongst Fairyland's fantastical architecture, sculptures, and amusement rides. Curated by Mary Anne KluthArtists:Susan Chen- beautiful, painterly nature animationsFictilis- a participatory, projected thumb wrestling tournamentEmily Alden Foster- Dreamboat, a video dream-recreation featuring Owl PeopleErica Gangsei- stop-motion animation adventures using found and recycled materialsLydia Greer- an animated answer to the question "what happens at Fairyland after dark?"Daniel Healey and Michael Deane- expressionist animations using vintage televisionsRanu Mukherjee- vivid digital animations reflecting on technology and displacementJeff Ray- an abstracted video tour of OaklandDarren Russel- deciBall, a sound and color based video gameEric Stewart- a surrealist video mis-matching animals and the sounds they makeJayne Vidheecharoen- Caturn's Space Aerobics, an animated planetary cat leads the audience in glowing hoola-hoop activitiesBryan Von Reuter- immersive multi-media installationsMaggie Wong and Seth Neill- Eye Beam, combining sculpture and bright geometric animations