Facing West Shadows at The ICA SJ-Institute of Contemporary Art, San José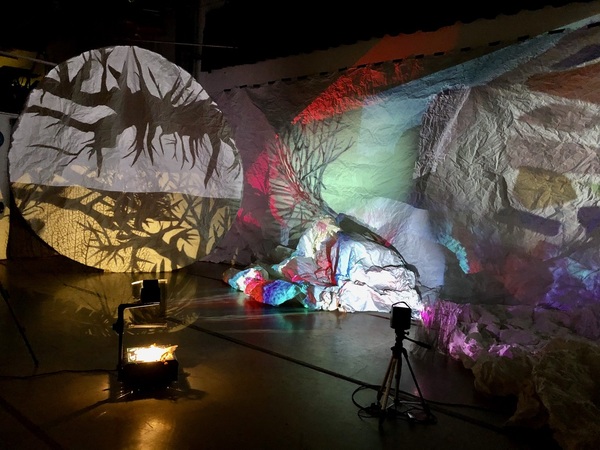 Facing West Shadows: The Endless End (April 2022-Aug 2022)
Facing West Shadows: The Endless End is a cinematic, sculptural installation created by Facing West Shadows at the Institute of Contemporary Art San José. Facing West Shadows: The Endless End illuminates the perpetuation of extinction and survival; the disrupted life cycles of native plants and animals, aquatic systems, and fire ecologies as affected by anthropogenic climate change. The viewer's attention is guided through projected moving images, hand-made animation, and cast shadows with a multi-dimensional soundscape. Collapsing and expanding time, species will live and die over the span of an hour of looping, overlapping, multichannel and multidirectional projection. In a sculptural environment, our role as animals within a system and as the planet's apex predator is illuminated.
As in proto-cinematic cave paintings and ancient shadow theatre storytelling traditions, Facing West Shadows seeks to understand non-human species and our relationships with them. Among their inspirations are the Bay Area's own precarious and diverse ecologies and Eadweard Muybridge's electro-photographic investigation of consecutive phases of animal movements. By weaving multiple moving images of Bay Area ecologies, mycorrhizal networks, fire, and water, Facing West Shadows: The Endless End takes the viewer on a time-based and immersive journey through cycles of ecological and species extinction and sometimes, survival.
About Facing West Shadows
Facing West Shadows (principal members: Lydia Greer (artistic director) and Caryl Kientz (theatrical director) in collaboration with artist Ya Wen Chien is a collective of artists, puppeteers, filmmakers, and musicians hybridizing art forms to create magical acts of rebellion as experimental art that is sustainable in the current gold rush climate of the Bay Area. Facing West Shadows combines analog shadow theatre with original animation, video projection of found footage, and sometimes Opera performed live. Expanding into film, theatre, and installation, Facing West Shadows depicts stories re-imagined with unique visual storytelling to create surprising experiences for the audience by seamlessly combining old and new technologies and art forms.