Doghkats Journey screened at TEMESCAL STREET CINEMA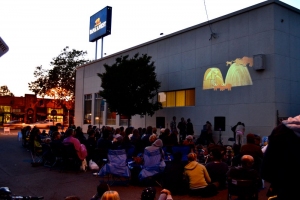 Veronica De Jesus and I created this short stop motion animated film based on her drawing series Dogkhat's Journey! screened June 16th 2011
---
stacked/multiplied: group exhibition co-curated by Katie Hood Morgan and Devon Bella, Adobe Backroom Gallery, San Francisco, California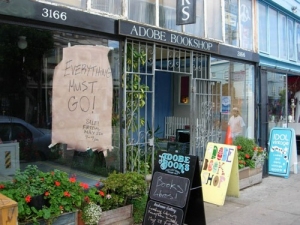 Upcoming GROUP SHOW at Adobe Books Back Room Gallery!

stacked/multiplied: group exhibition co-curated by Katie Hood Morgan and Devon Bella. Dates: Feb 24-March 25, 2011. Opening reception: Thursday, February 24, 7 - 10pm
---
Memory Mine, curated by Rose Khor, Santa Clara University, Santa Clara, CA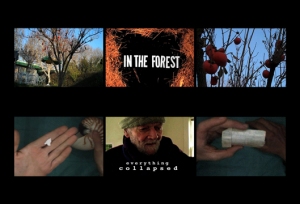 Santa Clara University, Department of Art and Art History presents Memory Mine featuring artists Lydia Greer, Farley Gwazda and Azin Seraj

In this collection of video work, the artists use the camera as a tool to engage memory and reexamine personal history. When the video camera turns on, the subject becomes an actor and the story changes with each retelling. Fixed notions of personal history and cultural identity are complicated through differences in representation.

Opening: Thursday, Nov. 4, 2010
Artist Lecture: 5-5:45 p.m. in Fine Arts room F
Reception and artist talks: 5:45-8 p.m.
Exhibition runs from October 25-December 3, 2010
SCU Art Department Gallery, 500 El Camino Real, Santa Clara, Ca, 95053
Gallery Hours: Mon.-Fri., 9 a.m.-5 p.m.


A Self Made House opens with the artist Lydia Greer's stepfather telling a family folktale of two sisters, a violent hog, and a house that forms itself. Much like the way the story is told, Greer shapes this film through hand-made animation, performance, and shifting narratives. Greer lets the story (and the house) build itself through the assemblage of divergent genres, interpretations, and narrative devices.

Farley Gwazda initiates intimate interactions between participants through modest materials and tactile games. In this new work, Gwazda constructs a dimly-lit box in which family members place their hands inside to hold and talk about the contents, largely household and childhood objects. In this safe confessional space, family members describe the nostalgic, remorseful, and humorous memories these objects evoke. Gwazda's unassuming use of play allows the participants and viewers to engage with the work in a sincere way.

In Azin Seraj's video installation, the viewer is drawn into a dense visual landscape of everyday life—bustling urban streets, colorful mosques, and evening street vendors. Through the split-screen display, the viewer's attention is placed on the liminal moments of time, space, and memory. This meditative work resists the illustration of Iran as a media headline, a place of war and unrest. Instead, we see a montage of Iran that moves in real time, rich in subtlety and reflexivity.
-Curated by Rose Khor
---
Lending Library, curated by BAM Matrix curator Dena Beard, Royal NoneSuch Gallery, Oakland, CA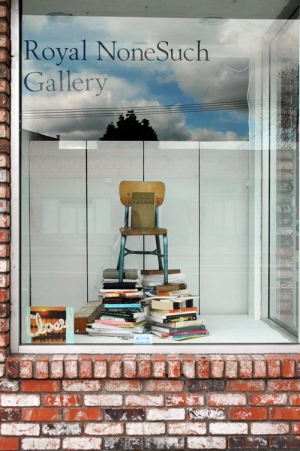 February 5- March 5, 2010

The Royal NoneSuch Gallery is pleased to present Lending Library, a group exhibition curated by Dena Beard, featuring tools, materials, and resources from artists Anthony Discenza, Lydia Greer, Desiree Holman, Trevor Paglen, Matthew Rana, Sunaura Taylor, and Andrew Rottner.

Comprised of source materials, Lending Library takes a chance to display a line of inquiry rather than a finished object. Michel Foucault said, "dreams are no longer summoned with eyes closed, but in reading; and a true image is now a product of learning." The seven artists included in the exhibition demonstrate the labor intrinsic to this learned image, making available their visual experiments and scholarly research. These personal libraries bear witness to the conceptual undercurrents the artists' projects but also to the aesthetic process of folding pages, scribbling in margins, and other devices of reclaiming information.